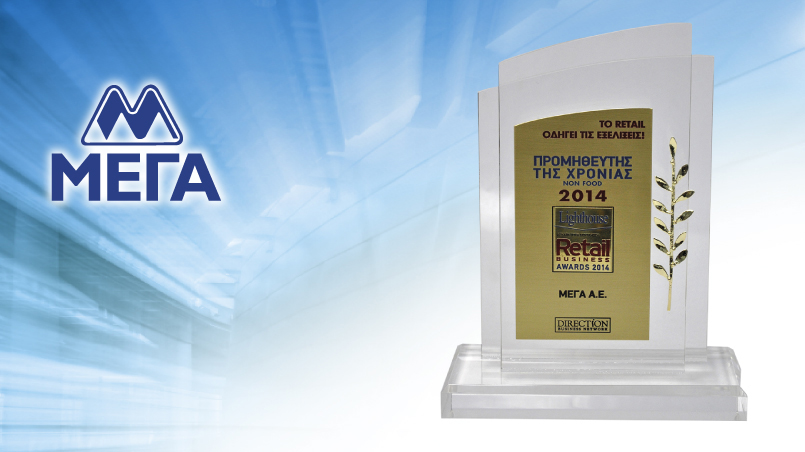 MEGA Disposables S.A has been honored as the "Supplier of the Year" in the Non Food category, at LIGHTHOUSE RETAIL BUSINESS AWARDS 2014, in a glamorous ceremony, which took place at Metropolitan Expo, with hundreds of guests, representatives of major retail operators and the country's industries.
This distinction is a great honor for MEGA, as it has been awarded by its clients themselves (i.e. the retailers in Greece), confirming the company's excellent performance, customer-oriented philosophy, ethical standards and excellent working relationships with the Greek Retail.
MEGA S.A. is currently one of the most sophisticated industries in Europe in the field of personal hygiene products. As a purely Greek company, it has managed to gain a leading position in many of the categories in which it operates, offering to the Greek family a top quality and innovative proposal for their personal hygiene. Today, it has established its presence in more than 30 countries abroad, proving that innovation may have a Greek identity, but also an international passport.
The LIGHTHOUSE RETAIL BUSINESS AWARDS, for 13 consecutive years now, constitute a reference point for the Greek retail and industry. The awards are organized every year with the sponsorship of the Ministry of Development and Competitiveness, in collaboration with the National Confederation of Greek Commerce and the Federation of Hellenic Retail Business.