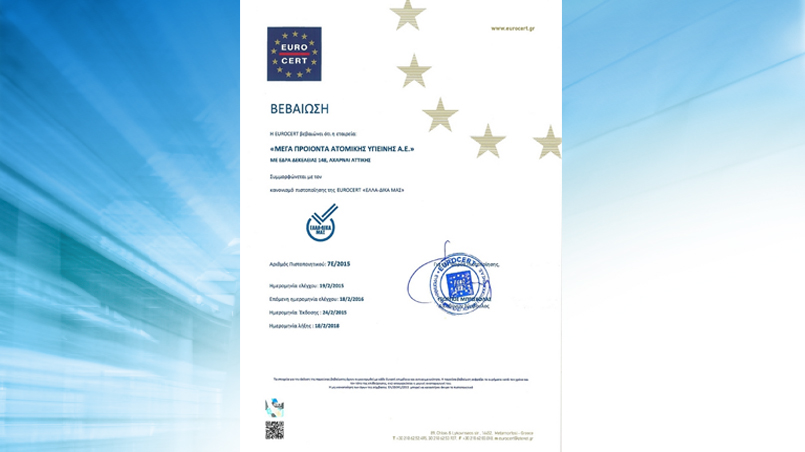 MEGA Disposables has been recently certified with the logo «ΕΛΛΑ-ΔΙΚΑ ΜΑΣ» by EUROCERT S.A.
The criteria which must be met in order to receive this certification are: the company should be under Greek ownership, should produce Greek products, have its headquarters in Greece, should employ Greek workforce, should have an active social action, and thus contribute in this way to strengthen the Greek economy and society. Mega satisfied all the above criteria.
Over the last five years of the economic crisis, MEGA increased its employees by + 45%. With leading positions in most categories in which it operates, the company continued to offer to the consumer innovative and high quality products that ensure protection and unique safety to the skin. The company continued its business plan, by investing more than 100 million Euros (2000-2014), always choosing state – of – the – art technology with the highest international standards of product quality and safety. With presence in 4 continents, MEGA managed the last five years to quadruple its export sales.
Further, the logo «ΕΛΛΑ-ΔΙΚΑ ΜΑΣ» promotes business excellence through quality criteria that should be satisfied.  MEGA, for 35 years now, has presented a dynamic development on the foundations of business ethics, has offered innovation and competitiveness via responsible ways of doing "business", active social actions and sustainable development.