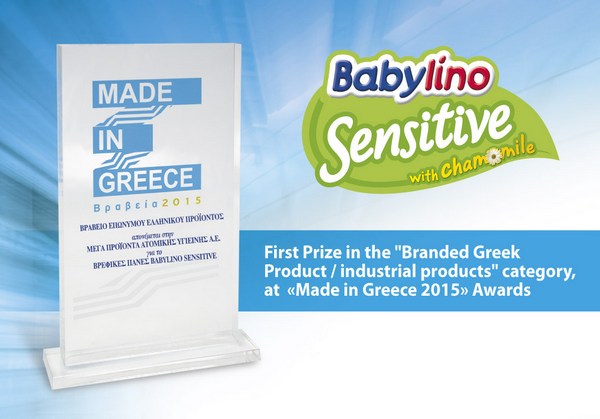 Companies that have achieved outstanding performance in the production and sale of products with significant added value for the Greek economy were honored by the Greek Marketing Academy at a big celebration of Greek entrepreneurship, on December 15. Babylino Sensitive diapers were granted the First Prize in the "Branded Greek Product / industrial products" category, at this year's «Made in Greece 2015» awards.
This important distinction, through rigorous evaluation criteria, confirms that Babylino Sensitive, worthily represent Greek innovation and development.
Combining excellent quality, certified skin friendliness, and innovative design through investments in state-of-the-art machinery, Babylino has earned consumers' trust. Furthermore, Babylino has presence in 4 continents, while the category of baby diapers has recently taken its place amongst the 100 most exportable Greek products, mainly thanks to MEGA's export activities.
The distinction shows also that a purely Greek company, MEGA SA, contributes to the personal hygiene sector's developments, by consistently investing in Greece (investments over 100 milion euros in 2000-2014), creating new job positions ( +45% increase in 2010 – 2014) and actively supporting the Greek economy.
«Made in Greece» awards, are organized every two years by the Greek Marketing Academy (EL.A.M.) and under the auspices of the Ministry of Economy, Development and Tourism.