"Shelter of care" at SOS Children's Villages, a new CSR program from Babylino Sensitive in cooperation with Masoutis S.A.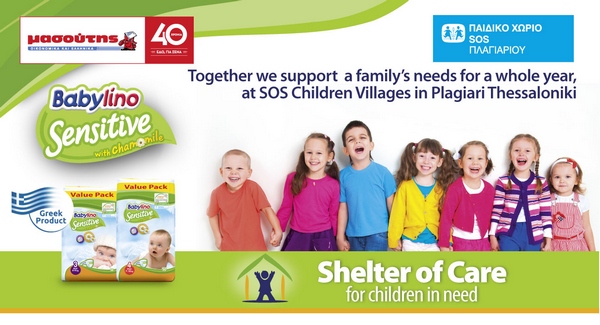 The 100% Greek baby diapers Babylino Sensitive and Masoutis S.A. stand once again responsibly by children in need, with the launch of a new social initiative. The program which is entitled "Care Shelter", relates to the annual adoption of a family at SOS Children's Village in Plagiari, Thessaloniki.
There are children who do not enjoy the privileges of the other children, but on the contrary, experience the harsh aspect of life from a very young age. These children need the support from all of us. The new social action supports the family's needs for a whole year at SOS Children's Village in Plagiari such as:  food, clothing, general house expenses, medical expenses, SOS Mother's salary, electricity, heating, water, psychological – psychosocial support and recreational – educational activities.
The annual adoption ensures stability and a real sense of security, so that each child can grow up in a warm family, with love, respect, as well as the opportunities in order to develop as a complete personality.
The amount will be gathered through sales of economic packages Babylino Sensitive at a discounted price, exclusively at all Masoutis stores during the period from September 22 to October 03.
The action is part of the overall CSR program of 100% Greek company MEGA, entitled "Actions of care" for society.