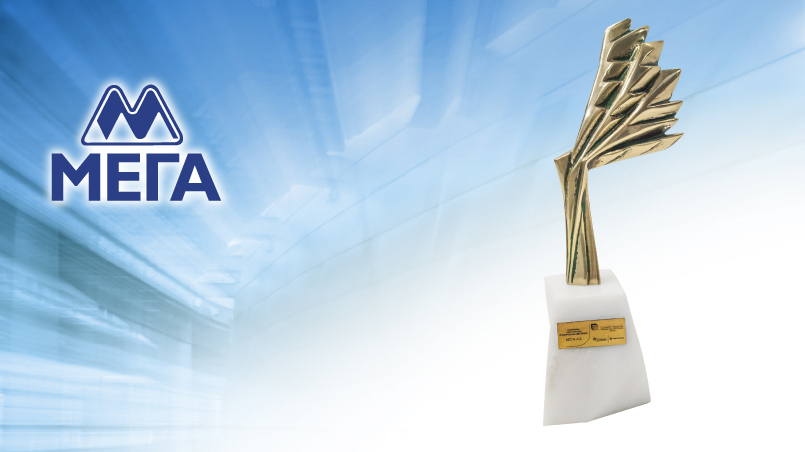 MEGA Disposables S.A, one of the largest and most sophisticated industries of personal hygiene products in Europe, was awarded an extremely important distinction in the Growth Awards ceremony.
«Growth Awards» introduced for the first time by Eurobank and Grant Thornton, aim to reward those companies that have managed to combine strong economic performance with successful modern corporate governance, while having the potential to contribute to shaping a new business landscape and corporate culture in Greece.
The evaluation process included specific analyses of key financial figures and indicators of 8,000 companies under the evaluation model "Financial Growth / Health Matrix" of Grant Thornton, through Eurobank's credit rating tools, but also an assessment of the real stories of the rated companies, with criteria that combine the logic of numbers with the human element. Out of the 8,000 enterprises only six winners were selected, those proving the highest performance in 6 different categories.
The companies awarded were selected by the Award Committee, presiding by Mr. Nikolaos Karamouzis and Vasilis Kazas and composed of Business and Academy leading figures:
– Iro Athanasios, Chairman of the Board & CEO, ELAIS-Unilever Hellas SA
– Andreas Andreadis, Chairman of the Board SETE
– Constantine Kingdom, General Manager Eurobank
– Emmanuel Giakoumakis Rector Athens University of Economics
– Spyros Theodoropoulos, CEO Chipita
– Nelly Katsu, BoD Vice Chairman & CEO Pharmathen
– Achilles Konstantakopoulos, Chairman of the Board & CEO TEMES SA
– Evangelos Mytilineos, Chairman of the Board Mytilineos SA
– George Provopoulos, Chairman of the Board, Eurobank Bulgaria AD
– Michael Tsamaz, Chairman of the Board and Chief Executive Officer of OTE
– Theodore Fessas, President BSE Board
– Vassilis Fourlis, Chairman of the Board Fourlis Holdings SA
– Angela Franks, Chairman of the Board & CEO of Navios Maritime Holdings
MEGA S.A. was elected as the winner in the category "Functional / Operational improvement", which reflects the continuous effort of MEGA S.A for Excellence, in designing and producing top quality innovative personal hygiene products, and also in its Operational model, as well as its overall activities.
MEGA S.A is committed to continue to actively support the Greek economy, by investing and producing in Greece, while strengthening its presence abroad.