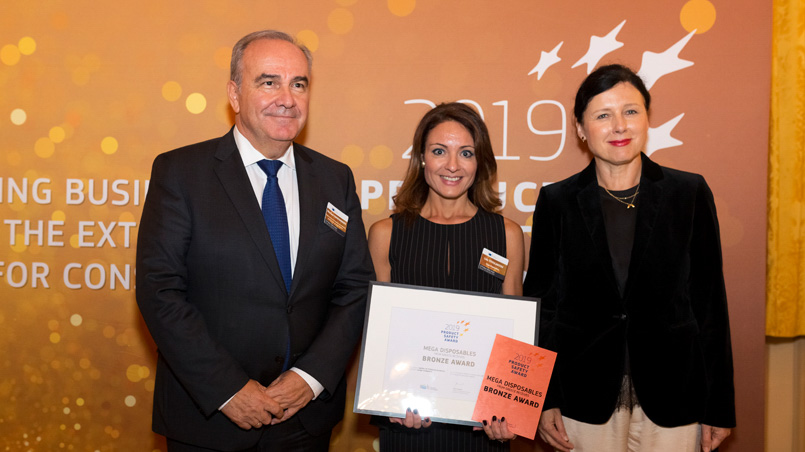 The Greek baby diapers Babylino Sensitive recently received the Product Safety Award from the European Commission. In a special award ceremony in Brussels, the Commissioner responsible for Justice, Consumers, and Gender Equality, Věra Jourová, awarded those companies which always try to offer something more in order to protect the consumers, while placing children's safety at the center of their activities.
This top distinction reflects the top and non-negotiable priority of MEGA to produce an absolutely safe baby product: Babylino Sensitive. A product that has been recognized for its extremely high level of safety for infant skin, after a strict evaluation by EU's special selection jury. "In MEGA we have always aimed at the safety and quality of our products. This award comes to reward our efforts and our dedication to excellence. This award also marks a timeless promise for our company to continue to ensure safety, maximize innovation and certify quality in its products," said Ms Vitouladitou Leda, MEGA Disposables Sales & Marketing Director, who accepted the award.
The award was delivered by the Deputy Minister for Development Industry and Trade issues Mr. Nick Papathanassis, who mentioned: "MEGA is an example of business excellence in Greece. Innovation, Quality and Development. This is the new face of Greece that we want and strive for. "
Věra Jourová, Commissioner for Justice, Consumers and Gender Equality, who hosted the award ceremony, said: "I want to congratulate the winning companies for innovating and investing in making products safer and raising the bar for consumer protection across Europe. This award recognizes their efforts. I call on all companies to make consumer protection their top priority, so that our children, families and friends are safe. There is no better investment than in consumer trust."
Since the first day of Babylino baby diapers' development, Mega has decided to ensure that this product would offer the best possible safety to babies' skin. This decision surpasses by far the legal requirements specified by EU law. Mega's sensitivity towards the consumer led the company to set as the ultimate priority the design of a baby diaper with excellent quality, proven skin – friendliness and no harmful substances.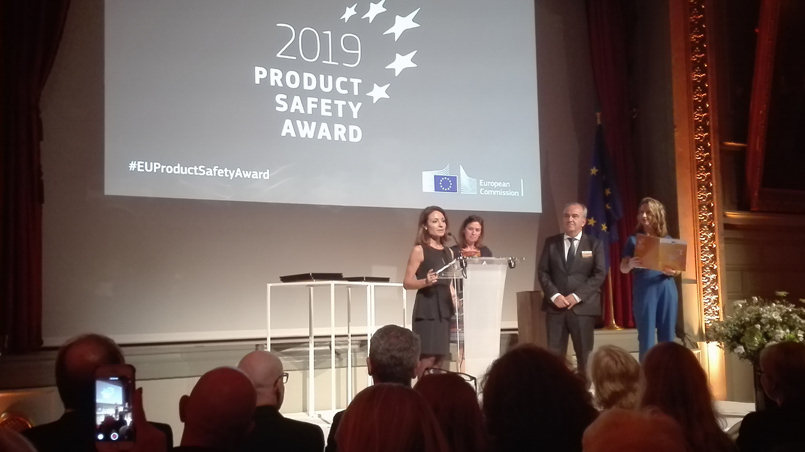 Babylino's key pillars of safety
Careful Raw Material Selection fulfillιng the strictest criteria of absorbency and exceptional skin-friendliness.
Investment in extremely advanced Quality Assurance Systems.
Advanced automated cameras (inspection cameras), which control thoroughly every piece separately in comparison with the model and the strict standards set by the Quality Control department.
Investments in state-of-the-art machinery.
Strict tests in internationally acknowledged dermatological institutions.
Thanks to the high priority of MEGA Disposables to proven Product Safety, Babylino Sensitive diapers were the first diapers in Europe to be Oeko – Tex certified for the absence of more than 200 harmful substances.
The paramount importance of the EU Safety Award
Through the Product Safety Award, the European Commission wishes to inspire other companies to develop this kind of practices, increasing the level of consumers' protection for the whole EU. Meanwhile, this Award aims to increase consumers' awareness regarding their right to find in the market only the safe products.
The first edition of the Award was open to companies from the member states of EU, as well as from Iceland, Lichtenstein and Norway. Entries received from 16 countries were assessed by a high-level jury comprising experts from government and consumer organizations. The award-winning companies were in total four medium-sized companies and four large companies from Austria, Denmark, Finland, Germany, Greece, Italy and the Netherlands.
More information on the EU Product Safety Award can be found here: