MEGA Disposables: 100% Renewable Energy Sources for the 4th consecutive year, reducing its environmental footprint.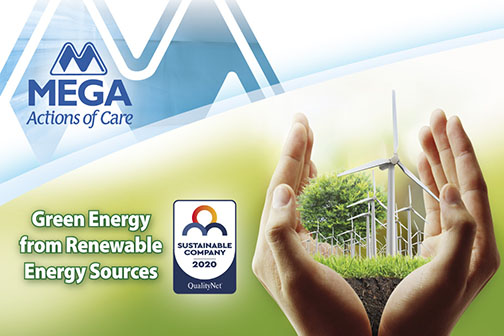 MEGA Disposables S.A., the company behind leading brands such as Babylino, EveryDay, Babycare, Wet Hankies, Sani, Pom Pon, etc., faithful to its commitment to sustainable development, acquires again this year for the 4th consecutive year Green certificates of origin from 100% Renewable Energy Sources, thus reducing its energy footprint.
The Green Certificate confirms that for the electricity consumed by the company an equal amount of energy has been generated from Hydroelectric Stations and has been committed through the Electricity Market Operator (guarantees of origin).
MEGA's primary goal is, and will continue to be, to produce superior Greek products with maximum safety and respect for the environment, which consumers can trust.
In an ever-changing world, MEGA proves its environmental care on a daily basis, having been certified with the ISO 14001 Environmental System and the ISO 50001 Energy Management System. In addition, the company has also received the FSC™ certification by the Forest Stewardship Council™. This certification integrates MEGA into the global group of pioneering sustainable companies, which create a shield of protection, ensuring that forest management is carried out in a responsible and accurate way.