BabyCare Pure Water Calming Wipes – "Product of the Year 2021".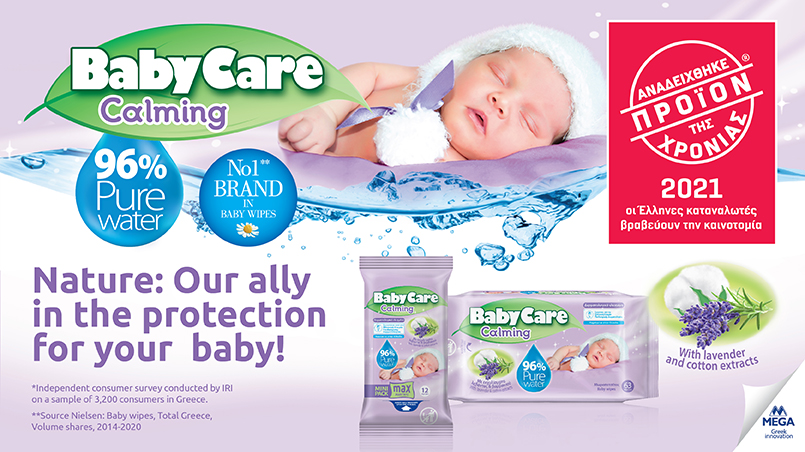 "Product of the Year" is the world's largest consumer-voted award for product and service innovation.
The aim of the institution is to reward industries, suppliers of products and services in the Greek market for their efforts to produce or create innovative consumer products with utility and purpose.
As part of this event, the BabyCare Pure water Calming baby wipes were distinguished receiving the "Product of the Year 2021" award in their category, after an independent consumer survey conducted by IRI on a sample of 3,200 consumers in Greece.
The new BabyCare Calming Pure Water baby wipes offer an innovative baby care proposal. Specially designed to offer gentle daily cleansing and a unique calming sensation. They have a unique formula that perfectly combines pure water (over 96% of the formula), organic lavender and cotton extracts. Thus, they offer gentle and calming care for baby skin.
Another innovative proposal of the 100% Greek company MEGA, which has many years of experience in designing wet wipes and constantly invests in innovation and research, aiming to meet the highest requirements. This top distinction but also the No. 1 * position of the BabyCare brand, in the Greek market for years, are the biggest reward for MEGA, since they come from the consumers themselves.
We warmly thank the consumers for their trust and we are committed to continue to design innovative products of unsurpassed quality and baby care, with a Greek signature.