MEGA Act Green: We take the future personally.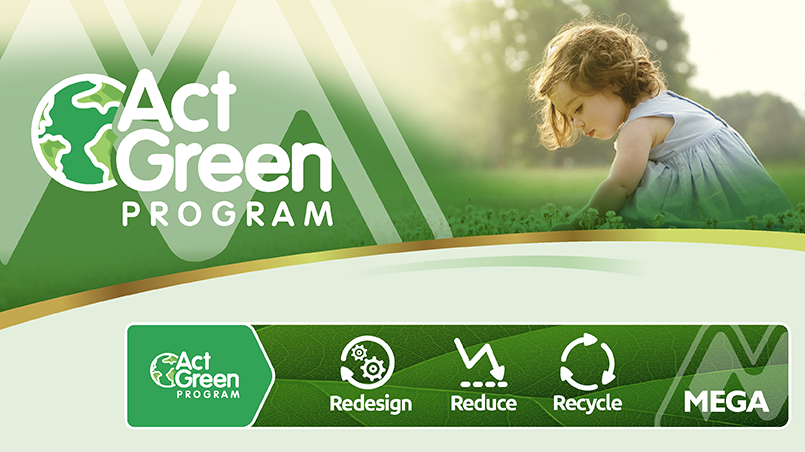 At MEGA Disposables S.A., Sustainable Development is a conscious self-commitment that stems from its culture and values ​​for decades. As a Greek industry, but also as one of the largest production units of personal hygiene products in Europe, the company has recognized from the beginning its role in the preservation and protection of natural resources. That is why, already from 1997, MEGA innovates, introducing the sensitive concept, designing innovative products with selected, friendly materials, both for the skin and the environment: EveryDay All-cotton pantyliners, EveryDay Sensitive pads, baby diapers Babylino Sensitive, Sani Sensitive incontinence products.
Today, the 100% Greek company further intensifies its timeless efforts to protect the planet by continuing its non-negotiable course towards sustainability. It mobilizes both international and Greek innovation, which develops in its laboratories and puts its know-how, the resources and collaborations in the service of the planet, significantly reducing its environmental footprint. This effort is reflected in the sustainability program of MEGA ACT GREEN: Redesign – Reduce – Recycle.
Specifically, with the ACT GREEN program, the company aims to create a positive sustainability impact, through the substantial redesign of its processes and products (REDESIGN), adopting the principles of the circular economy, achieving significant levels of material reuse (RECYCLE) and resource savings (REDUCE).
More specifically, MEGA is committed:
With the Redesign to:
The maximum possible use of cotton as the basic material of skin contact products by 2050.
The use of exclusively (100%) FSC certified pulp until 2030.
The creation of a new products' life cycle, by constantly reducing its footprint.
Constantly informing the public on issues regarding circular economy and redesign as part of responsible consumption.
To Reduce:
Packaging materials by 10% in all of our products until 2030.
Carbon dioxide emissions by 50% until 2030, aiming to reach zero by 2050.
Use of 100% green energy for our production activities by promoting signifivant investments towards energy autonomy.
Its water footprint with stepping up efforts over the next decade. In the last two years alone, it has managed to reduce water consumption by 13%.
To Recycle:
By using 100% recyclable packaging for all products by 2023
By continuing to use paper packaging up to 100% recycled paper.
By increasing the use of recycled plastic bags by 30% until 2030 and by 50% until 2050.
By recycling the plastic scraps that result from the production process and utilizing part of them in its packaging.
By organizing and supporting public environmental education campaigns for the public on recycling, and creating a positive impact through various actions
MEGA, fully aware of its role towards society and consumers, aims to implement long-term actions and adopt policies that create value, leave a positive footprint on the environment and promote responsible production and consumption. Mr. Constantin Vitouladitis, CEO of MEGA Disposables S.A, said: "We are constantly listening to the needs and challenges of our time and we strive to produce safe products for consumers, always with the aim of protecting the environment . With the Program "Act Green: Redesign – Reduce – Recycle" we intensify our efforts, we operate responsibly and we put our know-how, resources and collaborations in the service of the planet. We take the future personally and work ethically for the next generations".