MEGA Act Green and Mymarket: Collaboration with the environmental organization "Enaleia" for a Clean Aegean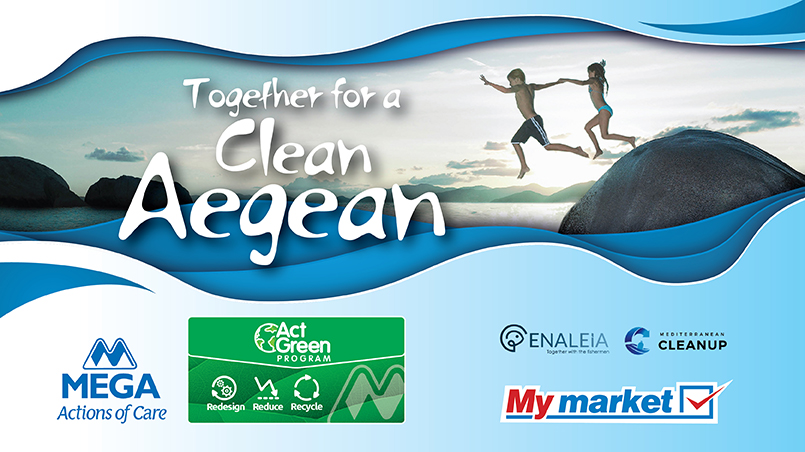 The 100% Greek company of personal hygiene products MEGA Disposables S.A., with a timeless sense of responsibility towards society and the environment, has been operating for decades as a responsible corporate citizen, implementing and participating in innovative programs that create value and leave a positive mark on the environment.
Mymarket, a purely Greek supermarket chain with 229 points of sale throughout Greece, from the first day of operation, has as a key pillar of its strategy, the responsible behavior, while always operating with the principles of Sustainable Development.
MEGA actively supports every action that aims at a better planet for the next generations. In this context, it recently proceeded in collaboration with the Greek non-profit social enterprise "Enaleia", within the framework of its sustainability program, ACT GREEN: Redesign – Reduce – Recycle.
MEGA, in an exclusive collaboration with Mymarket, proceeded to the creation of an innovative program entitled "Clean Aegean" in the context of Enaleia's project "Mediterranean CleanUp". This year, the program is implemented on the island of Astypalea, with the adoption of five small fishing boats to collect plastic from the sea and the shores, as well as the creation of a net collection station for six months. The result that is expected to be achieved by the "Clean Aegean" program is the collection of 4,500 kg of plastic and other waste through the sea and the prevention of plastic pollution from nets. The impact of the action on the environmental and social level is estimated at 134,550 euros.
With the ACT GREEN program, which includes the "Clean Aegean" initiative, the 100% Greek company MEGA Disposables S.A. aim to create a positive sustainability impact, through the redesign of its processes and products (REDESIGN), adopting the principles of the circular economy, achieving significant levels of material reuse (RECYCLE) and resource savings (REDUCE).
Ms. Sofia Tsaka, Corporate Social Responsibility Manager of MEGA Disposables S.A. stated: "At MEGA we take the future personally. For decades, Sustainable Development has been a conscious commitment that stems from our own principles and values and that is why we participate in innovative programs that can make a difference. Through our new cooperation with Enaleia, we are taking another step towards the protection of the marine environment by cleaning the Greek seas".
Ms. Sofia Tata, Director of Corporate Relations of METRO (My market) said: "We are very proud that with our participation in the "Clean Aegean" program we contribute in practice to the protection of the environment."
Mr. Lefteris Arapakis, Director of the Non-Profit Social Enterprise "Enaleia", said: "Enaleia and the project of Mediterranean CleanUp aim to clean the seas by mobilizing fishing communities but also with the participation of citizens, while emphasizing in the integration of the collected materials in the circular economy. It is a great pleasure for us to find supporters like the company MEGA Disposables S.A., on our way to a sustainable environment with cleaner seas. "