MEGA received 7 important awards at the RETAILBUSINESS AWARDS and the "CHAMPIONS OF THE GREEK ECONOMY"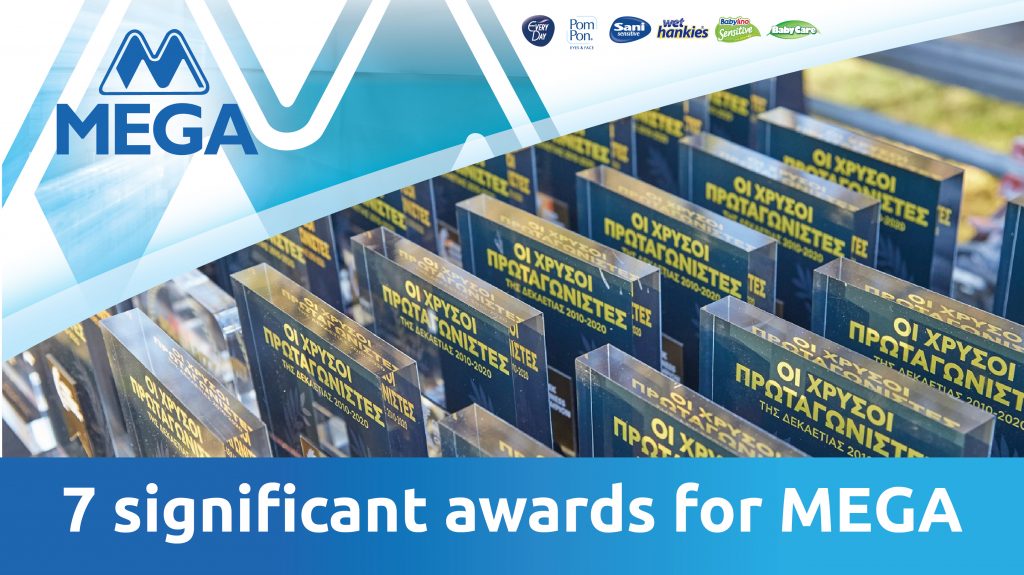 MEGA Disposables was recently distinguished in the RETAILBUSINESS AWARDS 2021, as well as in the ceremony of the Greek business "Champions of the Greek Economy", winning a total of seven awards.
Seven awards that recognize the important contribution of MEGA to the Greek economy of the country, but also its timeless care for the benefit of the national growth and employment, as well as for the Greek society in general. Because the 100% Greek company MEGA Disposables S.A.  remains faithful to its promise for a better future for the next generations, through the implementation of Corporate Social Responsibility programs that create value and leave a positive footprint on society.
More specifically, in the framework of the RETAILBUSINESS AWARDS, which took place on Tuesday, July 20, the company MEGA received the following four awards:
Gold Award in the CSR RETAIL STRATEGY category for the supply of medical equipment to pediatric hospitals, in collaboration with PENTE SA. and the association "Pediatric Trauma Care"
Silver Award in the SUPPLIERS' CSR CAMPAIGN category for the company's social action in the fight against the Covid pandemic.
Silver Award in the SUPPLIERS' BEST LAUNCH BRAND STRATEGY category for the successful launch of certified MEGA disposable surgical masks.
Bronze Award in the category CSR RETAIL STRATEGY for the innovative support program of the Elderly "Friendship Bond" of the Elderly Department, of the Directorate of Social Solidarity of the Municipality of Athens, in collaboration with AB VASSILOPOULOS.
At the same time, in the context of the "Champions of the Greek Economy" awards, that took place on Monday, July 19, MEGA Disposables S.A. was honored with three awards:
Champion of the Decade (2010-2020), as a leading company in the main sector of the Greek economy (based on the cumulative totals of turnover and profits before taxes, for the period-financial period 2010 -2019).
Greek Business Champion (Gold Protagonist of the Decade 2010-2020), as a company that managed to simultaneously increase its turnover and profits before taxes, over 50%, comparing the financial year 2010 with that of 2019.
Solidarity Excellence, for its commitment to the value of human life with the solidarity it has shown in practice towards society, with the appearance of the Covid-19 pandemic.
With the vision of creating a unique 100% Greek proposal in personal hygiene, MEGA Disposables S.A. records a steady growth and at the same time operates as a responsible corporate citizen who actively supports Greek society.