MEGA: Donation of advanced medical equipment at pediatric departments of hospitals in Greece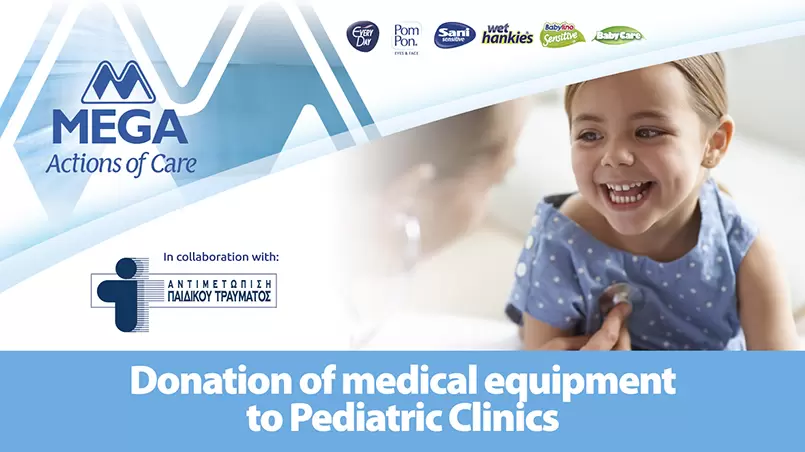 Mega Disposables has been operating for decades as a responsible corporate citizen, having at the core of its philosophy, to give back to the society. Το this end, it designs and implements targeted Corporate Social Responsibility programs, keeping its promise of creating a positive social impact, especially, by supporting the most valuable members of our society, the children.
Specifically, for the eighth consecutive year, in collaboration with the Association "Pediatric Trauma Care", MEGA offers modern medical equipment to Pediatric Clinics of Public Hospitals in Greece, with the main goal being their functional and technical upgrade. The main objectives of the program remain the response to one of the most important and current needs, the Health of a particularly vulnerable social group: infants and children, but also the shielding of pediatric health structures of the public health system. With this specific program, based on the annual statistics of the Hospitals, more than 20,000 infants and children have benefited and received practical help to date. Part of the donations were implemented in collaboration with the supermarket chains Sklavenitis, Lidl Hellas, Galaxias and Chalkiadakis.
The donations to the pediatric departments of the hospitals include advanced medical equipment, as well as, much needed medical and pharmaceutical equipment the Penteli Children's Hospital, the "Agia Sofia" Children's Hospital, the University General Hospital of Heraklion "PAGNI", the Pediatric Clinic of the General Hospital of Thessaloniki "G. Gennimatas-Ag. Dimitrios ", the Neonatal Intensive Care Unit of the Pediatric Clinic of the National & Kapodistrian University of Athens at the " Agia Sofia " Children's Hospital, the OBSTETRICS – GYNECOLOGICAL CLINIC OF THESSALONIKI "IPPOKRATIO" and the Pediatric Intensive Care Unit of the General Hospital of Thessaloniki "IPPOKRATIO".
With the vision of creating a better future for the next generations, while covering in the best possible way, the needs of the Greek health structures, the company MEGA remains faithful to its promise and firmly continues to support and be by the side of the infants and the children.