ΜΕGΑ and My market: With the Program "Clean Aegean" and the valuable partner, the environmental organization "Enaleia", implement an advanced environmental action which fully respects the principle of circular economy.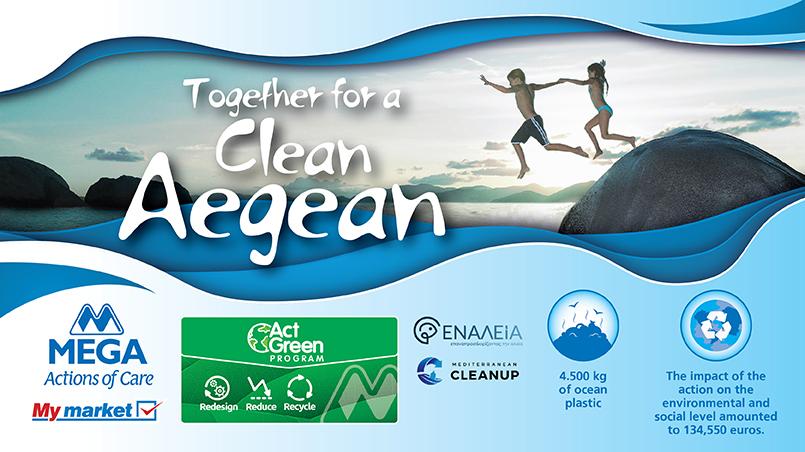 The "Clean Aegean" Program was implemented in the island of Astypalea, with the initiative of MEGA Disposables S.A. and valuable partners such as My Market stores and the environmental partner ENALEIA.
It is an advanced environmental action which fully respects the principles of the circular economy and creates a measurable environmental and social impact, which amounted to 134,550 euros. The plastic collected from the sea (4,500 kg) was transported to recycling facilities, in collaboration with certified associates of Enaleia, to be integrated into the circular economy. Particularly, some of the collected plastics were turned into sustainable products, such as socks in beautiful designs and colors, in collaboration with Healthy Seas, in the Netherlands.
The "Clean Aegean" Program is a part of the overall MEGA's "Act Green" Program, which includes specific measurable sustainability goals, further improving the social and environmental impact of the company.
Lefteris Arapakis, Head of the Urban Non-Profit Organization "Enaleia", stated that: "Enaleia and Mediterranean CleanUp action aim at cleaning the seas while emphasizing the integration of the collected materials in the circular economy. In Astypalea, with the support of the company MEGA and in collaboration with the local fishing community, the local government and groups of volunteers, we managed to collect more than 4,500 Kg of marine plastic and used fishing equipment. It is a great pleasure for us to find supporters like MEGA DISPOSΑBLES S.A., on our way to a sustainable environment with cleaner seas".
Sofia Tsaka, Corporate and Social Responsibility Manager at MEGA, said that: "At MEGA, we have embedded the Sustainable Development in the heart of our strategy. This particular program is a highly advanced environmental action and one of the few in Greece that fully integrates the goal of "closed loop" recycling, since some of the plastics collected, recycled and reused in the form of useful and safe products for the whole family. We warmly thank Enaleia, for the excellent implementation of the action, My market stores for the active promotion of the environmental action in-store, as well as the consumers for their enthusiastic participation. MEGA is committed to continue the "Clean Aegean" program, by contributing to the effort for a sustainable and safer environment for our children".
Sofia Tata, Corporate Affairs Director of METRO (My Market), said that: "In My market Sustainable Development is a part of our DNA and we utilize stable, innovative ways in order to protect the environment. Our cooperation with MEGA and Enaleia for a "Clean Aegean" gave us the opportunity to contribute substantially to a comprehensive environmental action, which fully adopts the principles of the circular economy. We are very happy that we joined forces and became the helpers of such a remarkable initiative".