MEGA: Next to the Society, with acts of care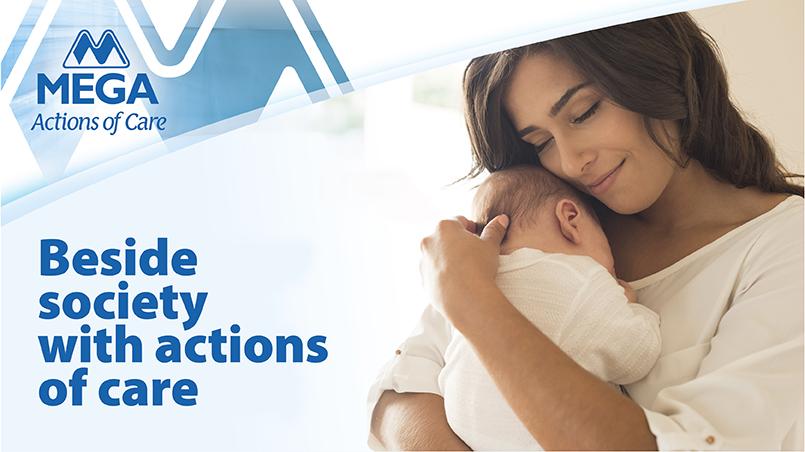 Corporate responsibility is inextricably linked to MEGA Disposables daily business activity. The Greek company is implementing a comprehensive Corporate Social Responsibility program, remaining true to its commitment to caring for society, consistently reciprocating the trust it has received over the past 40 years.
In addition, in an era of ever-growing social needs, the Greek company is intensifying its efforts with consistency and responsibility, emphasizing social actions related to health and prevention and in line with the United Nations Sustainable Development Goals. For their implementation, the company has entered into collaborations with important organizations, with a long-term orientation. The following are some of the important social actions of the company:
Program "Together for their Health" in collaboration with the Association "Pediatric Trauma Care". MEGA offers for the 8th consecutive year medical equipment in pediatric hospital departments in Greece. To date, a total of 42,011 children have benefited from the program.
"Mother and Child" program in collaboration with Doctors of the World. MEGA supports for the 4th consecutive year the medical care of newborns, children and pregnant women, belonging to vulnerable population groups. To date, more than 5,000 infants and children have received pediatric care, more than 600 pregnant women and new mothers have received gynecological care, and more than 3,000 Babylino Baby Kits have been distributed.
"Care Shelter" program, in collaboration with the SOS Children's Villages. MEGA covers for the 8th consecutive year the annual needs of a family in the SOS Children's Village Plagiari (food, clothing, general household expenses, medical expenses, SOS Mother's salary, psychological – psychosocial support and recreational – educational activities for children).
Program "Beside them" in collaboration with "The Smile of the Child", the SOS Children's Villages and the Child Protection Center of Attica "The Mother". MEGA covers the annual needs in baby diapers for 1 year in three child protection bodies.
Program "Pan-Hellenic campaign for Alzheimer", in collaboration with "NGO Apostoli" by the Holy Archdiocese of Athens and the Karelleio Center for Alzheimer's and Related Diseases. Through this program, a total of 3,500 memory tests have already been performed in more than 30 regions of the country on the elderly by a special team of scientists, while more than 3,000 people (relatives and caregivers) have been informed about the importance of early diagnosis & prevention.
Program "Actions for the Pandemic". During the two years of the health crisis, MEGA donated 20 hospital beds to the ICUs of public hospitals, medical equipment to Tzaneio Hospital and a fully Automated Rapid Molecular Technique System – REAL TIME PCR along with 6,400 Reactor to Thriasio Hospital.
"Remind me" program in collaboration with the Jump of Life – Panhellenic Association of Women with Breast Cancer. The main goal of the action is to spread the message of prevention as a way of life for all women and at the same time to activate women to devote more time to conducting early and regular cancer checks, in order to help them sustain good health.
In addition, during the two years of the pandemic crisis, the company donated over 14.5 million antiseptics and other personal hygiene products to hundreds of organizations and NGOs nationwide, which support vulnerable social groups.
MEGA Disposables is committed to continue supporting social initiatives and actions that responsibly serve its mission to be practically next to society, with substantial, daily acts of care.