Three new environmental awards at Hellenic Responsible Business Awards 2022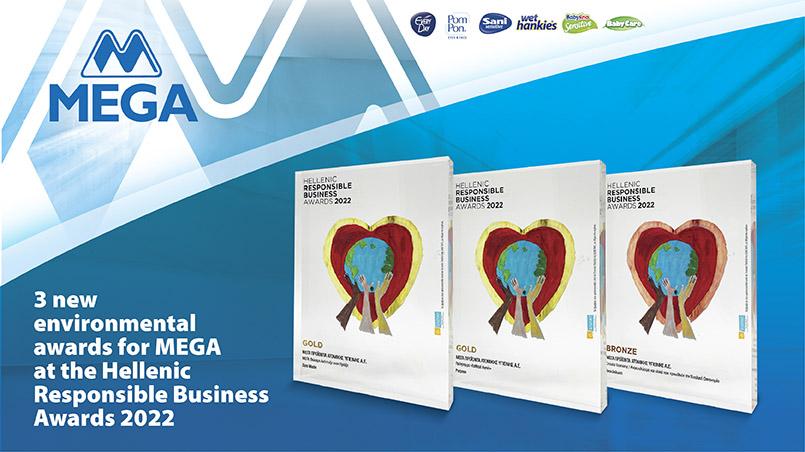 Three new important environmental distinctions were received by MEGA Disposables, at the seventh awarding ceremony of this year's Hellenic Responsible Business Awards 2022, the great institution that rewards both Responsible Entrepreneurship and Sustainable Development.
The company – leader in personal hygiene category in Greece, which produces favorite brands, such as EveryDay, Babylino, Pom Pon, Babycare, Sani, Wet Hankies, etc., received the following awards:
Gold Award in the Purpose category, for the environmental program "CLEAN AEGEAN", which is a comprehensive environmental action implemented for the second year in collaboration with Enaleia and My market, with the aim of cleaning plastics from the seas and coasts of of the Aegean, which are recycled and contribute to the Circular Economy.
Gold Award in Zero Waste category. As part of its environmental commitments, MEGA designed the appropriate production and waste management processes, implemented collaborations with certified recycling partners and dedicated the required resources, in order to achieve an extremely low environmental impact from its production unit. As a result and recognition of the above choices and efforts, it received the international Zero Waste to Landfill certification at the "Gold" level, as in 2020 it achieved a 99% recycling and energy recovery rate in its production unit.
Bronze Award in Recycling category. With respect to the Principles of the Circular Economy, MEGA is constantly developing new strict "Design for Sustainability" specifications for its products. It adopts initiatives beyond those required by law, for the proper management of waste, the increase of recyclable and recycled materials and the more efficient use of natural resources.
For MEGA, Sustainable Development is a conscious self-commitment that stems from its own values, for decades. The 3 environmental awards are recognition of its efforts for a sustainable future, implementing in practice its commitment to create a positive environmental impact, through substantial actions with a long-term orientation.