Actions of Care for the Environment
Actions of Care for the Environment
With daily actions of care we contribute to the creation of sustainable environment for future generations.
Our goal is to reduce the possible impact on the environment as a result of our everyday activity, as well as to holistically incorporate the principles of sustainable development in our decisions and procedures.
The main areas of our focus are in the reduction of energy consumption, the sustainable use of natural resources and the incorporation of the principles of sustainable development in our decisions and procedures.
Environmental Consciousness
With daily actions of care, we contribute to the creation of a sustainable environment for future generations.
The economic system of the circular economy is based upon the principle of re-use, where nothing is considered as useless. Everything is considered as raw material and can be either re-used, or recycled as many times as possible. As a major Greek company, we believe in circular economy and we continuously invest on actions and programs of recycling and re-use. Recognizing that raw materials are not inexhaustible, we aim to make efficient use of limited natural resources, while adopting continuous initiatives on top of those required by the relevant regulation for the reduction of our environmental impact.
Our goal is not only reduce the impact by overburdening the planet's fragile ecosystem, but also to take upon us important initiatives for the protection of the environment and conservation of natural resources, inspiring through our action and raising the awareness of our people towards this direction.
It is also worth noting that we are constantly upgrading our plant, both in terms of quality and processes, as well as at the level of environmental performance, by applying new technologies that are more environmentally friendly.
Energy consumption
We believe that global climate change is the biggest challenge for the upcoming decades. For this reason, we make every possible effort to reduce energy consumption per unit of product (electricity) and fuel (gasoline and oil from the privately owned and leased vehicles), contributing this way to the reduction of greenhouse gas emissions.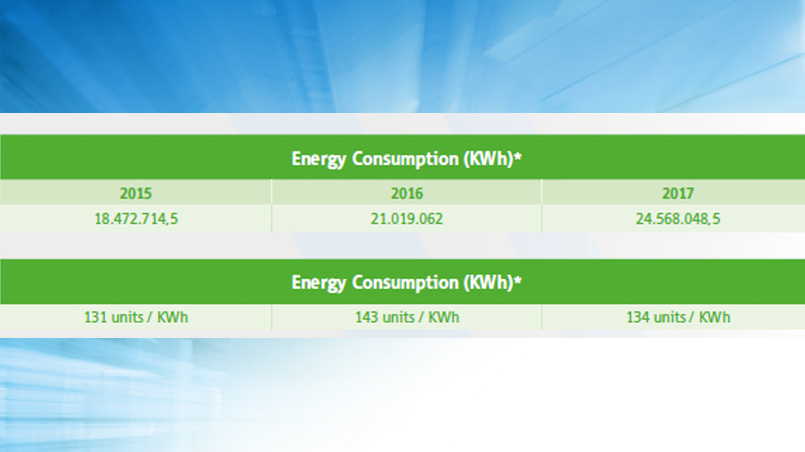 Waste Management
As part of our environmental policy, we remain committed to the proper collection and recovery of our waste, applying large-scale management and disposal practices. The production processes of our industrial plant produce waste that is separated and received by appropriately licensed professionals for overall management. Waste separation is carried out during production in order to achieve a high level of recycling and recovery. Recyclable and non-recyclable materials are segregated and placed on specific bins used by partner companies. The following table presents the categories of material separation, and their method of disposal.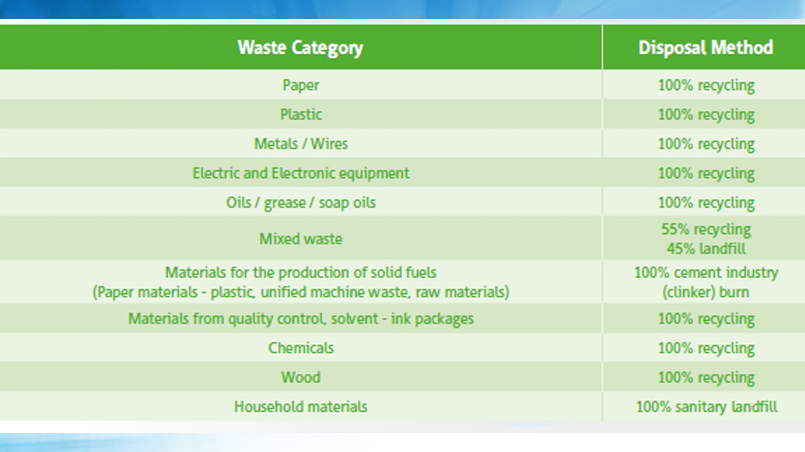 The results from the waste management system are the following:
• significant quantities are diverted from landfills to sanitary landfills
• recovery of recyclable materials, such as paper, plastic, metal, wood, etc., is achieved, while energy is saved
• solid waste is utilized in order to be used in other industries to help meet their energy needs
• the qualitative and quantitative goals of our environmental policy for Sustainable Development are achieved
• a more efficient exploitation, utilization, and management of waste from the production process is achieved.
Certifications
ISO 14001 : The company has been certified according to the Environmental System ISO 14001:2015
ISO 50001 : The company has been certified according to the Energy System ISO 50001
Green Pass : "Faithful to its commitment to sustainable development, MEGA reduces its energy footprint, by ensuring Guarantees of Renewable Energy Sources – Greenpass. Thus, PPC SA confirms that for the electricity consumed by the company at its premises, an equal amount of energy has been generated from Hydroelectric Stations and has been committed through the Electricity Market Operator".
Forest Stewardship Council (FSC) Chain of Custody Certification : MEGA has the FSC (Forest Stewardship Council) Chain of Custody certification and the PEFC (Program for the Endorsement of Forest Certification) Chain of Custody certification. These certifications prove the continuous commitment of the company to the protection of the environment through sustainable forest management. The certification procedure begins at the forest and continues with strict specifications at all stages of the supply chain, ensuring that consumers purchase eco-friendly products.