Antibacterial hand lotion with 70% alcohol denat. and additional disinfecting agent.
Approved by the Greek Organization for Medicines.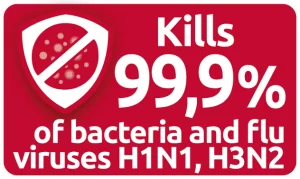 "Contact time 1' according to EN14476"
Tested according to European Standards EN1276, EN1500, EN1650, EN14476, EN13727, EN13624, EN14348.
Moreover, ΜΕΓΑ lotion is tested according to specialized EN tests, of extremely high requirements, which certify its bactericidal, fungicidal and virucidal action, thus making it suitable even for medical use, i.e. for use in medical or hospital areas.
Available in convenient 100ml & 200ml packaging with spray pump, as well as in 500ml packaging with dispenser pump.
√ Dermatologically Tested.
√ No parabens, soap, mineral oil, aluminum.
√ Perfume-free.
√ Peg-free.