With responsibility for our Consumers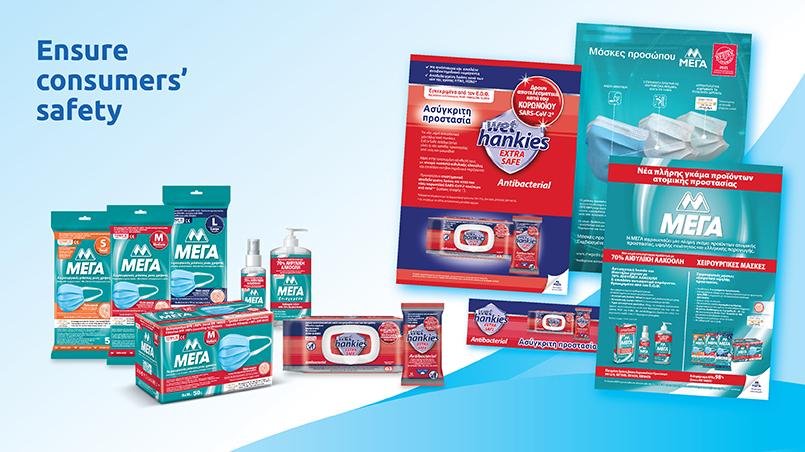 In response to the increased demands of antibacterial protection imposed by the unprecedented health crisis, MEGA, with a high sense of responsibility, was once again at the forefront of offering comprehensive protection.
By combining its special know-how and its unwavering commitment to product safety, the company immediately took all the necessary actions in order to contribute to the fight against the new coronavirus SARS-CoV-2.
Specifically:
We optimized our production processes and invested in new mechanical equipment to produce antiseptic products, with the aim of ensuring adequate coverage of consumers in products necessary for their individual protection.
We designed a new line of enhanced protection products, with scientifically proven action against bacteria and viruses, including coronavirus SARS-CoV-2.
Thus, grace to the immediate effort of the R&D department, with all the necessary studies in specialized laboratories for certification of the action, as well as with all the necessary licenses and certifications (local FDA etc.), the company designed in Greece and made available to buy the following new products:
Mega enhanced antiseptic hand lotion, with 70% ethyl alcohol, which offers enhanced protection against viruses and germs and proven action, according to European standards EN1276, EN1500, EN1650, EN14476, while it is approved by National Organization for Medicines. Available in practical packaging with spray (100ml) and in economical packaging with pump (500ml).
Wet antiseptic wipes MEGA enhanced with 70% ethyl alcohol and additional antiseptic agent. With proven action against germs and viruses, including H1N1 and H3N2 flu viruses, but also the new SARS-CoV-2 coronavirus. Tested action according to the European standards ΕΝ1276, ΕΝ1500, ΕΝ1650, ΕΝ14476. Approved by the Greek Organization for Medicines.
Wet antibacterial wipes Wet Hankies Extra Safe. With action against bacteria and viruses (including influenza viruses H1N1, H3N2, etc.), as well as scientifically tested action against coronary SARS-CoV-2. The design of this innovative product also considered the need for rapid action against the virus, even if the wipe is used for just a few seconds, in order to ensure adequate protection in each use. Thus, the product was designed in such a way that it achieves proven protection against the SARS-CoV-2 coronavirus in just 1 minute.
 Significant investment in new production lines of antiseptic products and surgical masks
In addition, with the aim to be able to contribute to the domestic need for self-sufficiency of products critical for the season, significant investments were considered necessary in additional production lines in antiseptic products, as well as in other personal protection products. The investments were made immediately, and the new production lines of antiseptic wipes were put into operation in record time, while making sure they were staffed with properly trained personnel.
Apart from the above-mentioned investments, MEGA invested extensively in surgical mask production lines. As a result, the Company ensured an annual output capacity of 200 million masks.
The new production lines and raw materials are of European origin and are made for a contactless production process all the way through to product packaging.
The design of the surgical mask of MEGA ensured high protection levels, secure fit on the face but also comfortable perspiration. With uniquely soft, innovative fabric sides that keep the mask stable, without tiring or irritating the area around the ears.
Thus, MEGA surgical masks were designed with unique innovations that proved to be very positively accepted by consumers:
Design with 3 layers. The intermediate layer is made of special meltblown with electrostatic treatment, which achieves filtration of even very small particles, such as those of the coronavirus SARS-CoV-2.
Dermatologically tested.
With Oeko-Tex® Standard 100 certification, for the absence of harmful substances.
With unique soft fabric sides that do not irritate and do not tire the area around the ears.
The only masks available in 3 sizes (Small – Medium – Large).
Available in secure packaging.
During the health crisis we are experiencing worldwide, MEGA remained on standby and ensured the increased security conditions to protect both its employees and its consumers. Currently, it contributes further to the national effort to deal with the pandemic, continues its activities committed to the exceptional result in terms of quality and safety of its products, while in the context of corporate responsibility, MEGA has a positive social impact through the targeted actions regarding the fight against the pandemic.