BabyCare Calming Pure Water wipes, thanks to their balanced formula that contains pure water (over 96% of the formula), cotton extracts and organic lavender, care for delicate infant skin, while offering a unique sense of relaxation. In addition, they gently cleanse while helping protect against irritations and nappy rash.
Approved by the Hellenic Society of Paediatric Dermatology.
Contactless production in Greece by MEGA S.A.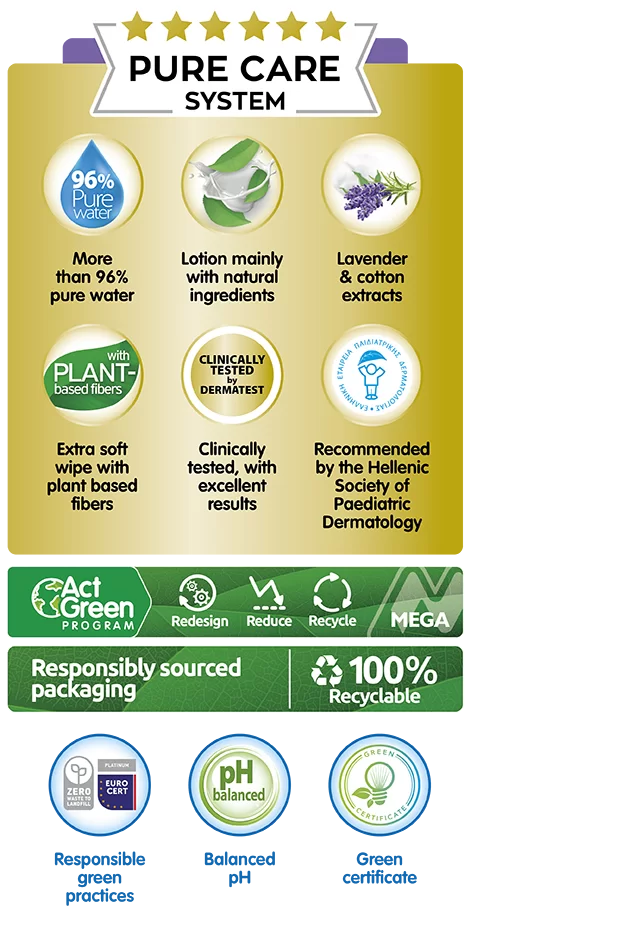 Characteristics
Designed based on a "Pure Care System": 
96% pure water.
Lotion mainly with natural ingredients.
Select extracts.
Wipe with plant based fibers.
Clinically tested, with excellent results after a 4 weeks study on babies under dermatologist supervision, by Dermatest Laboratory (Germany).
Recommended by the Hellenic Society of Paediatric Dermatology.
Ιmpregnated up to 30% more*, for real care (Pure Care) for the baby's skin.
With balanced pH.
No parabens, alcohol, dyes, phthalates, propylene glycol and silicones.
Dermatologically tested.
100% recyclable packaging.
(*) in relation to other branded baby wipes.