Certifications
Quality Assurance Methods
Our Quality Assurance (QA) system consists of an integrated control system that has the ability to monitor product development at all levels of production and to fully control the performance of machinery and production units:
selection of suppliers
quality control of raw materials
specifications control for new materials and machinery
network audits for mechanical and technological equipment
high resolution automatic cameras on every machine that control each product at different stages of production and compare it with the ideal prototype. In case of non-conformity the product is automatically discarded
internal laboratory testing* of raw materials, according to EDANA / INDA methods
internal laboratory testing* of final products
analysis and processing department of consumers' messages comments and/or complaints
qualitative and quantitative consumer surveys in Greece and abroad
microbiological testing
final products performance testing. Our laboratory is equipped with special mannequin dolls from the internationally specialized SGS Lab Courtray to control absorbency and dryness on baby and incontinence products
panel tests (internal and external)
*Internal laboratory testing: Our in-house laboratory features state-of-the-art equipment while our experienced personnel monitor our product specifications on a daily basis.
More tangible proof points of the company's commitment to the continuous improvement of its environmental performance with specific policies and international standards, are the following certifications: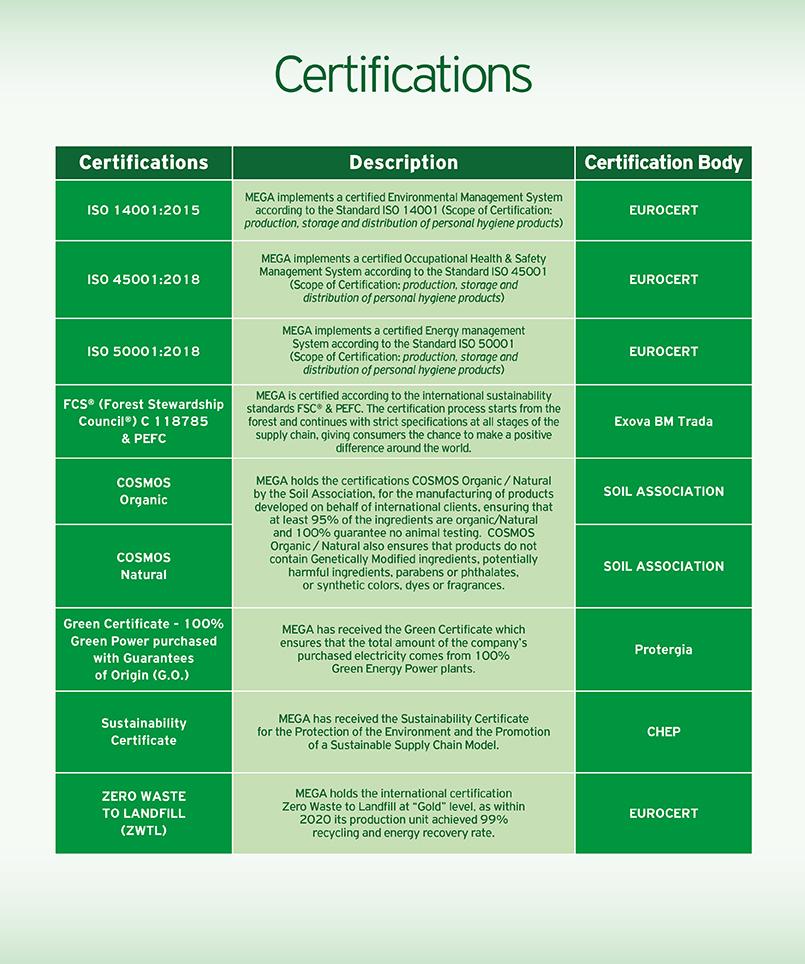 Staying true to its commitment for excellent product quality, MEGA proceeded to the completion of three new ISO certifications.
ISO 9001:  Certifies that MEGA implements a Quality Management System in terms of design, development and production of personal hygiene products, medical technology products Class I and wipes.
ISO 13485: Certifies that MEGA implements a Quality Management System for the design, development and production of medical incontinence products and related Class I products.
ISO 22716: Certifies that MEGA applies Good Industrial Practices in Cosmetics in terms of production, control, storage and transport of cosmetics (soaked disposable wipes).
The 3 new certifications are yet another recognition, but at the same time a commitment of the Company to continue upholding excellent quality and top product safety as its upmost priorities.